SELLING? You have options.
Ask me how to make these work for you, all while having an advocate on your side.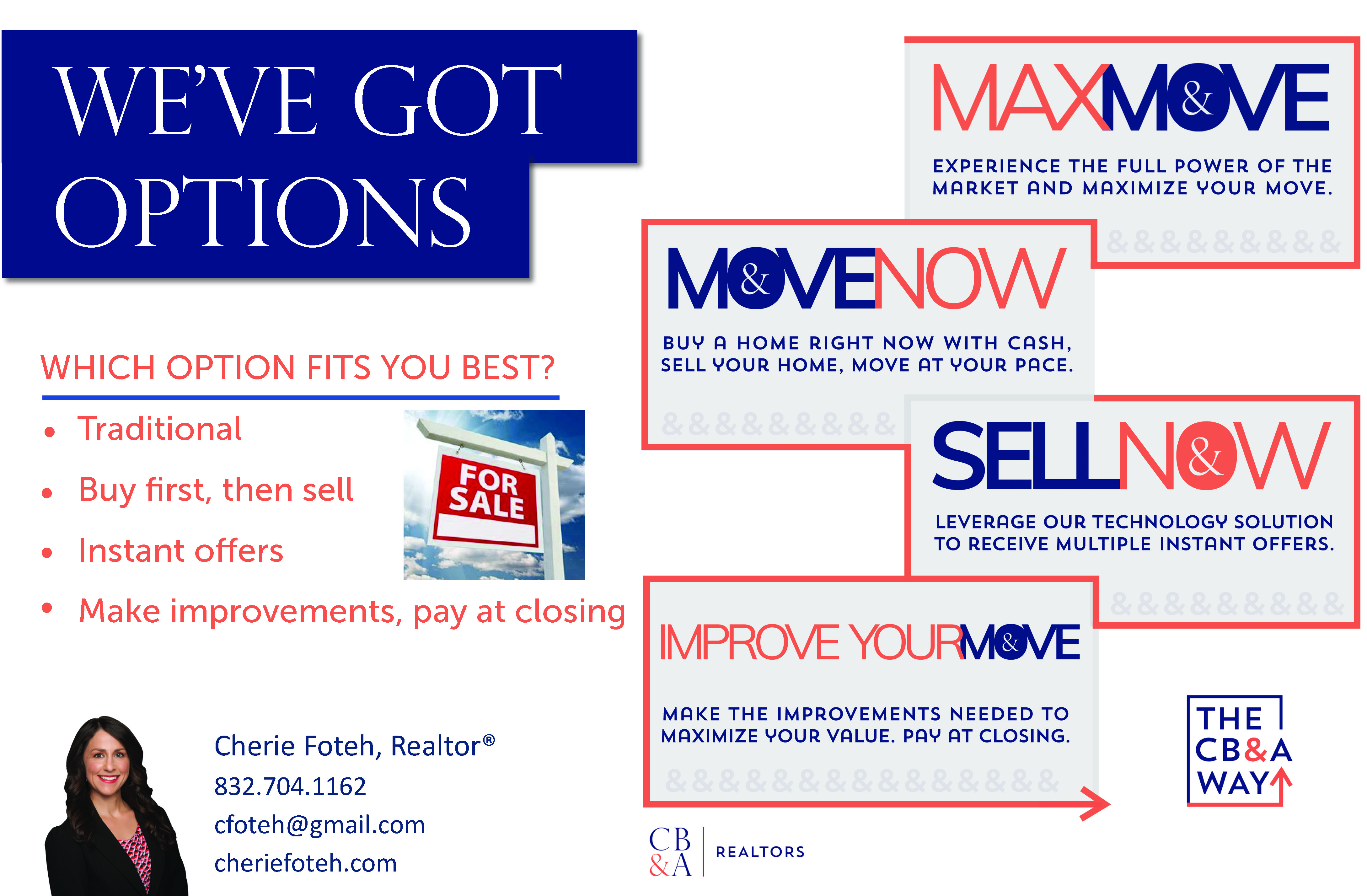 1.) Instant offers
Receive multiple instant offers
2.) Buy cash now, sell later
Leverage the power of an all-cash offer using the funds of our partner company. Then sell your home and move at your pace.
3.) Make improvements now and pay at closing
Get top dollar for your home by making needed improvements now, and pay when you sell your house.
4.) Traditional
Leverage the full power of the market.
My goal is to get you home however I can.
Contact me today to find out more.
Testimonials
" I would like to thank Cherie for all of the work she did in getting my property sold. Early morning texting, late night phone calls and emails; always positive and always cheerful. She was a terrific lady to have representing me! If ever again I am in need for an agent up in the Houston area or know of someone that is looking for a good agent and company, I would definitely suggest her services! "
- Olga J.
" Cherie Foteh has been an absolute pleasure to work with. She consistently exceeded all expectations, explaining all information in detail from start to finish. I would definitely recommend and work with her in the future. "
- Kerke S.
" Cherie was fantastic to work with. Her knowledge, not only of the industry, but of houses themselves and what to look out for, was exceptional. She communicates effectively throughout the process, and ultimately we got our house due to her going above and beyond to follow up on a listing I had personally given up on. I would highly recommend her! "
- Amanda A.
" Cherie made us feel like we were her only client, and my wife and I feel as if she is part of our family. She will always be someone we will refer to if we have any real estate transactions in the future. "
- Nicholas R.
" Our realtor Cherie Foteh was an amazing communicator and helped smooth out some of the rough edges of the process. Her diligence with the inspectors and title company is very much appreciated and gave us an excellent experience. Cherie's hardwork made a potentially challenging situation a very enjoyable overall experience. I will be recommending Mrs. Foteh to all my friends! "
- Alan R.
" This was my second transaction with Cherie. Both transactions have been flawless and I was extremely happy with the service, knowledge and dedication. "
- Chris B.
Previous
Next